If you are a Nigerian sports bettor searching for a top-rated online bookie, you will find plenty of licensed Nigerian online betting sites waiting to welcome you. This can be confusing for new sports bettors who are unaware of the benefits of making a comparative study of various online bookies before signing up.
If you are given a choice between NairaBet and Bet9ja, which one would you choose? Both are highly reputed online bookies operating on a Nigerian license and offering great welcome bonuses, but each has advantages as well as disadvantages. The following comparative review of the two bookies will help you make a wise choice.
Introducing Nairabet and Bet9ja
Bet9ja is one of the most well-known of Nigerian betting sites. You can access your Bet9ja account on desktops, laptops, smartphones, tablets, and even older mobile handsets. KC Gaming Networks Limited, Bet9ja's parent company, has received online betting licenses from the State of Osun and the Lagos State Lotteries Board.
Since it has a presence in several African and European countries, you can expect Bet9ja to maintain a safe, secure, and fair betting environment with maximum focus on customer satisfaction.
Here are some of the most exciting features of Bet9ja:
Get a new player bonus of 100% up to N100,000
Choose from 10,000 varieties of bets on Saturday
Win real money and enjoy speedy withdrawals
Nairabet offers online betting services in several African countries, including Nigeria. The brain child of Akin Alabi, a Nigerian entrepreneur, it went live as an online sportsbook in 2009. By 2012, Nairabet Nigeria had evolved into a major online gambling site offering casino games, live betting, and virtual betting. The operator of Nairabet Nigeria is Over the Top Entertainment, an entertainment company that has obtained a Nigerian license.
Bet9ja Review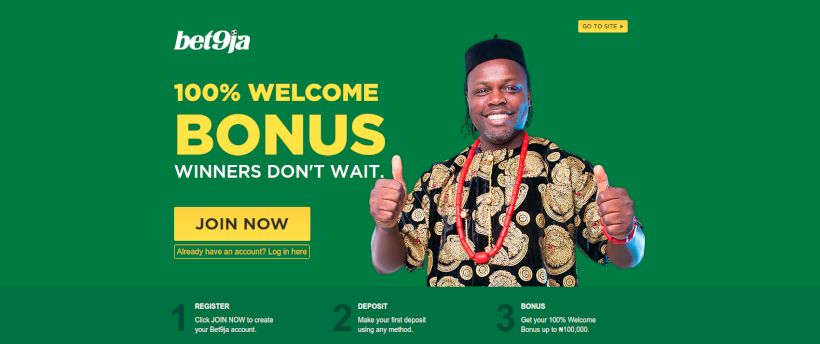 To get started at Bet9ja Nigeria, you have to be at least 18 years old. You also need to read the online bookie's responsible gambling policy, which talks about the importance of betting within your bankroll limits. Also, you need to open a Bet9ja account, which you can access on any device of your choice.
How to Bet at Bet9ja?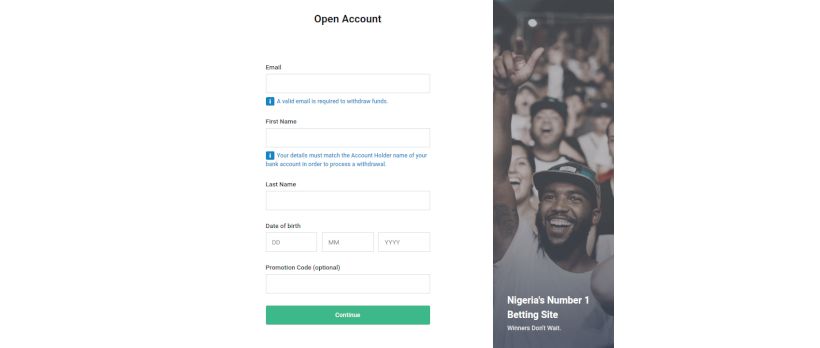 Most bettors find it very convenient to bet in browser without having to download any third-party software or app. You just have to login to your Bet9ja account on desktop, laptop, or smartphone to get started.
Or you can download the native betting app for Android devices. However, you have to first set your device to accept files from unknown sources. A shortcut to Bet9ja will appear on your home screen on successful installation. You just have to tap on this shortcut to access the online bookie.
You can choose from two versions of Bet9ja Mobile, depending on the type of mobile device you own. If you use an older mobile device, you can use the Old Mobile version, which is lighter, simpler, and does not consume too much data. If you use a brand new mobile device, you can use the New Mobile version, which is rich in features and graphics and requires high Internet speed and sophisticated technology to work. 
Games to Bet On – You have the options of placing hundreds and thousands of pre-match and live bets. When you need a break from online sports betting, you can try some virtual betting or play table games and slots.
Win N10,000,000 at Bet9ja – You have to play a prediction game called Super9ja every week for a chance to win this enormous jackpot. If you correctly predict the outcomes of six previously determined football games, you will win the jackpot. If you predict just a few of them, you have to be content with a consolation prize. 
Easy and Safe Banking – With plenty of deposit and withdrawal methods to choose from, Bet9ja offers a safe and secure banking environment. You can deposit as little as N100 and withdraw as little as N5000 per transaction. 
Customer Support – Bet9ja responds within 48 hours to messages sent through online contact form. Telephonic support is available from 08:00 to 21:00 through the number 01-279-6666. Customer support is also available through Twitter. Alternatively, you can also write to the online betting site's headquarters in Lagos.
Nairabet Review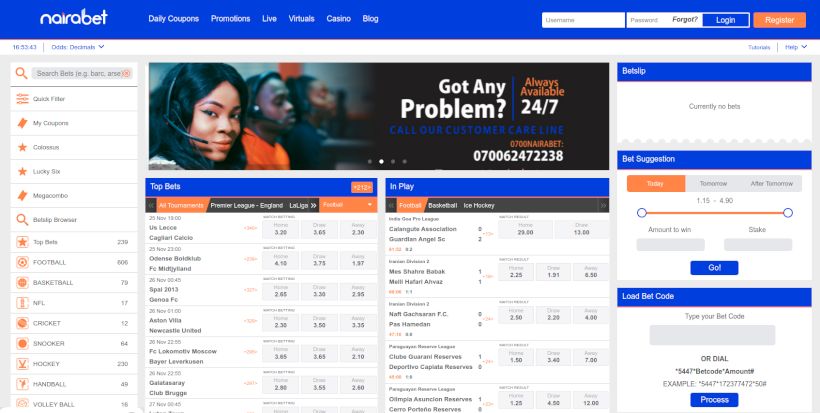 You can choose from the following two ways to open a new Nairabet account to start betting on sports in Nigeria.
Through Mobile Phone – You have to call 0700 NAIRABET or 070-0624-72238 and give them certain personal details. The online bookie will open a new betting account for you and send a confirmation through email. You can login to your newly created betting account after verifying your account details.
Through Online Registration Form – You can also fill in a simple online registration form, confirm that you are of the legal age to gamble in Nigeria, accept the online bookie's terms and conditions, and verify your email address to start betting.
Claim Your Bonus

Nairabet welcomes newly registered players with a welcome bonus of 100% on their first deposit amounts. Certain terms & conditions apply and you should read them carefully before claiming the bonus.
Nairabet on Mobile Phone
Nairabet does not offer any native mobile betting apps for iOS and Android. Just type Nairabet's website address in your mobile device browser and you will be instantly taken to the online bookie's mobile version.
You can choose from a Full Version and a Lite Version. The latter is simpler, consumes less data, and loads faster, which makes it ideal for older devices. The former is rich in graphics, consumes more data, and may load slowly if you have a poor Internet connection.
Banking Details

You can either make a bank deposit or choose to deposit through ATM card, authorized agents, Quickteller, GT Collections, and GTB USSD Code. Withdrawals are just as easy and quick.
Games to Bet On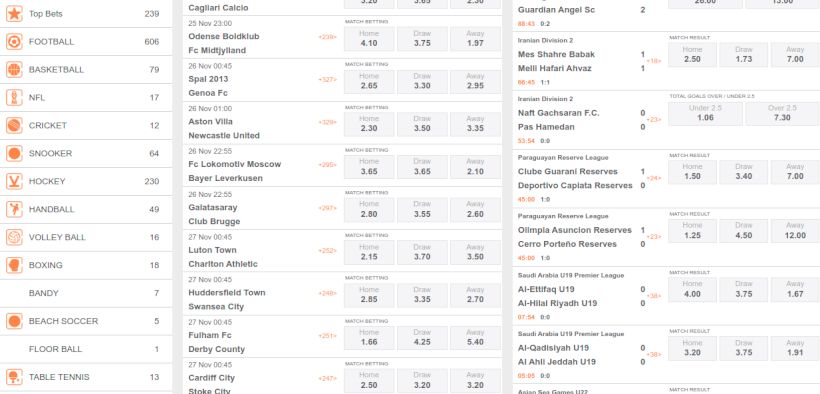 Nairabet covers a wide range of sports markets including basketball, volleyball, darts, baseball, rugby union, boxing, badminton, and water polo. In addition to placing sports bets, you can purchase daily coupons, place bets on virtual games, play online casino games, bet on lucky numbers, and place live bets on volleyball, tennis, and football games.
Customer Support

Customer support is excellent at Nairabet Nigeria. There is an exhaustive Help center with all the information you will ever need to get started, place bets, and manage your account. If you need to contact customer support, you can do so through telephone or email to support@nairabet.com or online contact form. You can also write to their headquarters in Lagos. You can use the live chat option if you need quick assistance.
Playing at Nairabet and Bet9ja – Weighing the Pros and Cons
The online sports betting services at both Bet9ja and Nairabet are excellent, but there are slight differences that set the two online bookies apart. These differences may either enhance or totally destroy your online betting experience at these sites. Everything depends on your personal tastes, preferences, and requirements.
Check out the pros and cons of playing at Nairabet and Bet9ja as it will help you understand the two online bookies better.
Bet9ja Pros and Cons

The only problem with Bet9ja is that its customer support is not available round the clock. Although the online bookie offers the best customer support through online contact form, Twitter, and telephone, it does not respond to you in an instant. To make matters worse, the online bookie does not have a live support system.
If you don't mind the above coupled with the fact that there is no live streaming at Bet9ja, you can enjoy the online betting experience it offers. You can choose from thousands of betting options, try your luck with the online casino games, boost your bankroll with the new player bonus and the bonus boosts of up to 170%, download the native betting app for Android, and make deposits and withdrawals safely, securely, and quickly.
The best thing about Bet9ja is that it does not deny its services to owners of older mobile devices. You can get a decent betting experience if you use the old mobile version of Bet9ja Mobile.
Nairabet Nigeria Pros and Cons

There are a number of good things about Nairabet Nigeria. You can win football jackpots, place special bets, and use an innovative feature called load bet codes to share your selections with fellow bettors. But you may find the desktop version of Nairabet a bit difficult to navigate. We found the mobile version of Nairabet to be more user friendly than its desktop version.
The help center, though exhaustive, is annoying as you have to download PDF files whenever you want to get information. But the customer support system is excellent, including features such as support tickets and forums. Moreover, there is customer support through email, telephone, and live chat.
Although you won't find any native betting apps at Nairabet, you will find two versions of Nairabet Mobile—a lite version for older mobile devices and poor Internet connections and a full version for bettors who own the latest smartphones and enjoy a fast Internet connection. You can use the lite version whenever you want to save some data.
Which is Better – NairaBet or Bet9ja?
Both Nairabet and Bet9ja are excellent betting sites, but we cannot declare any of these sites as the best as it depends on what you are looking for. The following comparative analysis of the two betting sites will help you come to a quick decision.
Games to Bet On– Both NairaBet and Bet9ja offer excellent betting odds on a variety of sports events related to football, volleyball, cricket, tennis, and others. But NairaBet offers plenty of extra betting options in the form of lucky numbers, online casino, daily coupons, lucky numbers, and virtual betting. The only extra that Bet9ja offers, therefore, is Bet9ja. If you are looking for an online sports betting experience uncluttered with extras, Bet9ja is a better option for you.
Football Jackpots– You will find lucrative football jackpots at both NairaBet and Bet9ja.
Welcome Bonuses– Both online bookies offer generous welcome bonuses.
Promotions– You will definitely find more of these at NairaBet. In addition, you will find some attractive features such as edit bets, cashout, and customer-to-customer transfer, which you will not find at Bet9ja.
Payment Options– Bet9ja offers a wider range of payment options although you have a good enough choice at Nairabet too.
Customer Support– Customer support is definitely better at Nairabet. In addition to an exhaustive help center, which is rather loaded with PDF files, the online bookie offers support through telephone, live chat, email, and online contact form. Customer support at Bet9ja is good but is definitely not as fast as Nairabet. You may have to wait for up to 48 hours to get a response to your online message or email. Telephonic support, though available, is limited. And there is no live support.
Registration – The only way to get registered at Bet9ja is by filling in an online registration form. On the other hand, NairaBet Nigeria allows you to register through telephone and also through an online registration form.
Lite & Mobile Versions– Both online bookies offer a lite version of their mobile betting product. So, you can enjoy a decent online betting experience at both online bookies even if you don't have a fast Internet connection and/or a new mobile phone.
Mobile Apps– NairaBet Nigeria does not offer a single native betting app for iOS or Android. On the other hand, Bet9ja offers a dedicated app for Android devices. You will find the link to the same on the Bet9ja website.
As you see, the differences between the two online bookies are rather minute. Each has its own advantages and disadvantages and you have to sign up at the online bookie that is best capable of serving you.
You may also make the decision to register at both online sportsbooks. In fact this could be a great decision because you really have nothing to lose but spending a few minutes and registering at a second sportsbooks. You do have a lot to gain as it gives you the option of enjoying the best offers and options from both sportsbooks!