If you are looking for a safe, secure, licensed, and reputed Nigerian online betting site, you can consider signing up either at Merrybet Nigeria or Bet9ja Nigeria. Both are excellent online sportsbooks licensed in Nigeria, catering to huge communities of highly satisfied Nigerian bettors.
It can be a difficult proposition when it comes to choosing between the two sportsbooks but we list out the pros and cons of both in an attempt to make your decision a lot easier.
Introducing Merrybet Nigeria and Bet9ja Nigeria
The parent company of Bet9ja Nigeria, KC Gaming Networks Limited, is licensed by the State of Osun, the Lagos State Lotteries Board, and all other Nigerian states that have legalized online sports betting. The Bet9ja brand targets bettors across Europe and Africa.
Playing at Bet9ja is safe and secure as it implements top industry standards, including Dell servers and Fortinet Firewall. In addition, it bears a Thawte SSL encryption certificate.
The parent company of Merrybet Nigeria also operates Merrybet.com and MerryBetPredict.com. Licensed in 2013, Merrybet Nigeria has grown to become one of the biggest and most highly reputed online bookies across Nigeria. Playing at Merrybet is just as safe as playing at Bet9ja as it uses the latest encryption technology and stores bettors' information in servers that are protected by the latest firewall technology.
Merrybet Nigeria Review

To start betting on Merrybet Nigeria's online betting platform, you have to open an account. You will find this to be an incredibly simple procedure, which requires you to fill in an online registration form, accept the online bookie's terms & conditions, and verify your email address. Once you have completed this essential procedure, you can login and place any bet you please at Merrybet Nigeria.
Once signed up at Merrybet Nigeria, you have three options—Lite Mobile, Smartphone & Tablet, and PC. The online bookie asks you to make your choice. If you don't want to do this every time you sign in, you just have to check "Remember My Choice" and the online bookie will make it the default choice.
The most exciting feature of Merrybet Nigeria is its Lite Mobile, which is ideal for bettors who cannot use a lot of data. The betting interface is not graphic rich, which makes it lighter, data friendly, and easy to load. Although it is easy to sign up, log in, change platforms, and place bets on Lite Mobile, it does not give you the other attractive features of Merrybet such as virtual games, lucky numbers, and online casino.
The PC version of Merrybet Nigeria is designed exclusively for desktop computers while its Smartphone & Tablet version is designed exclusively for a variety of smartphones and tablets.
Easy Deposits and Withdrawals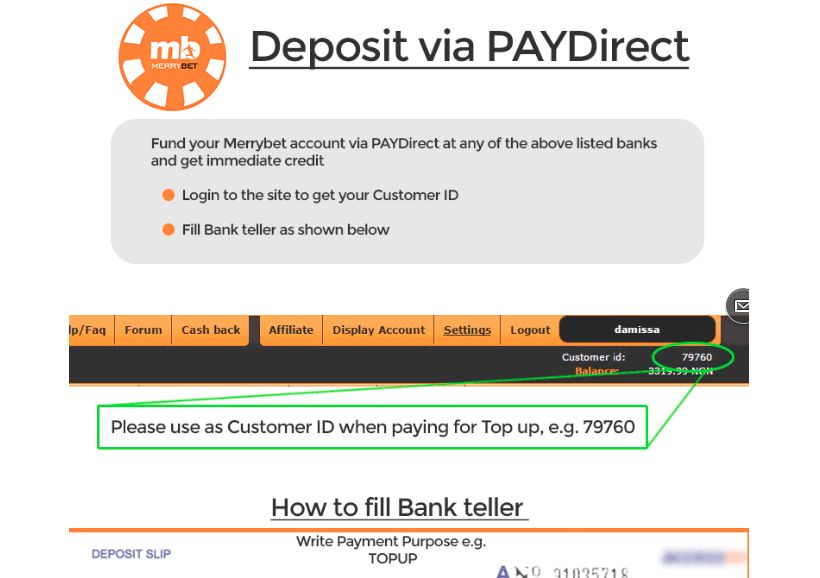 You can use the following options whenever you want to load your Merrybet Nigeria account:
Paydirect Nigeria
WebPay Nigeria
Bank Deposit
Zenith Bank
Quickteller
GT Collections
Paystack
But when it comes to making withdrawals, Merrybet Nigeria offers only two options—Instant Payout and Bank Payout.
Merrybet's Sports Markets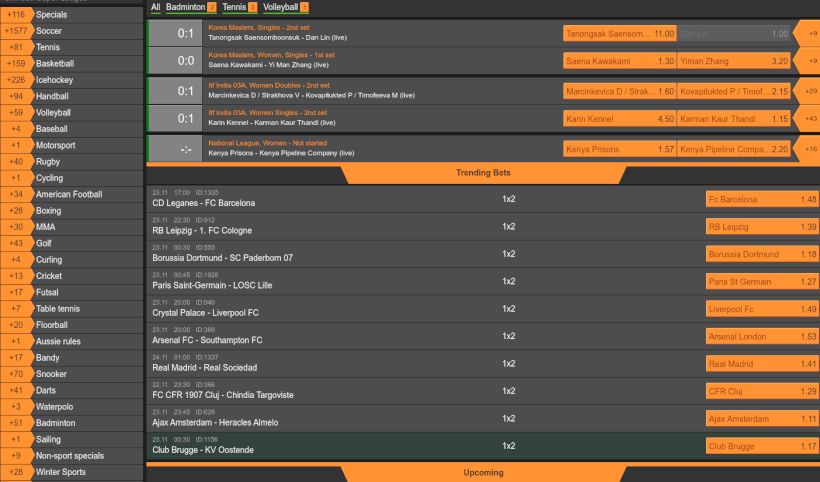 You can bet on markets such as basketball, soccer, handball, volleyball, tennis, baseball, motor sport, ice hockey, cycling, rugby, boxing, MMA, golf, American Football, cricket, Beach Soccer, darts, winter sports, sailing, Aussie Rules, snooker, and many others at Merrybet Nigeria. In addition, you can place bets on political events, eSports, and TV shows.
Merrybet also offers live betting on volleyball, soccer, and tennis; virtual betting on basketball, horse racing, tennis, dog racing, and others; games such as casino games, keno games, video pokers, slots, and others; and lucky numbers.
Merrybet Nigeria also gives you the opportunity to win the Colossus, a large rollover football jackpot worth N100,000,000. All you have to do to win this life-changing jackpot is to correctly predict the outcomes of six previously determined football games. If you predict just four of those games correctly, you will win N6,258,859.
Get Customer Support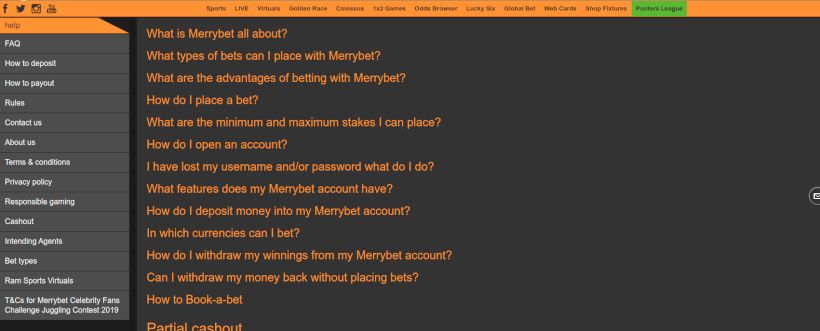 Finding the required information to get started at the online bookie, to manage your betting account, and to make deposits & withdrawals is easy because of an exhaustive FAQ and useful tutorials.
The Nigerian online bookie also offers email support (support@merrybet.com) and telephonic support lines.
You can write to Merrybet Gold Limited, Suites C 107/108, Ikota Shopping Complex, Lekki-Ajah Expressway, Lagos.
There is also a feedback form, which you can use to send feedback regarding the online betting services.
Bet9ja Nigeria Review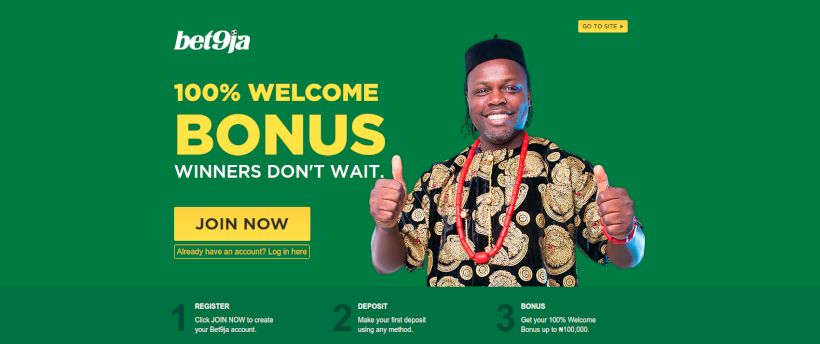 You have to register to start placing real money bets at Bet9ja, but the registration procedure at the online bookie hardly lasts a few seconds. Once logged in, you can choose from two ways to bet—in browser or via native betting app.
Betting in browser at Bet9ja is easy and convenient. You just have to login to access your Bet9ja betting account and bet in browser. If you opt for this method, you don't have to download any betting software or native app. You can place bets on any device of your choice, including smartphones, tablets, desktops, and laptops.
If you own an Android device, you can download the native app for sportsbook. If you want to play Bet9ja's casino games too, you can download the native app for casino as well. You have to set your Android device to accept files from unknown sources for successful download and installation. When you have installed the app on your Android device, you will see a shortcut on your home screen. Clicking on this shortcut will launch the online betting site on your device.
The best thing about Bet9ja Mobile is that it comes in two versions—an old mobile version and a new mobile version. The former is a simpler, lighter version that works well on older mobile devices. The latter is a graphic-rich, heavier version that works well on the latest smartphones and tablets. You can place bets on thousands of international sports markets, make deposits and withdrawals, and view your account history on the move.
The following are some of the top features of Bet9ja:
New player bonus of up to N100,000
Up to 170% bonus boost
Excellent odds on soccer, basketball, handball, rugby, political events, bandy, cricket, boxing, table tennis, and many others
Live betting on tennis, ice hockey, and basketball
Play online casino games such as live dealer games, table games, TV games, arcade games, and slots
Virtual betting on tennis, horse racing, football, and dog racing
Win N10,000,000 at Bet9ja

If you play a betting game called Super9ja at Bet9ja Nigeria, you stand the chance of winning a life-changing jackpot of N10,000,000. It is a simple game that asks you to correctly predict the results of six previously determined football games.
If you correctly predict the results of all the six games, the N10,000,000 jackpot will be yours. If many players correct predict the results of all the six games, the jackpot will be distributed equally among them.
Bet9ja also distributes consolation prizes among players who predicted the results of just a few games correctly.
Safe & Secure Banking
There are a wide range of deposit options to choose from at Bet9ja. Some of them are Quickteller, Interswitch, OPAY, Polaris Bank, Providus Bank, Zenith, Stanbic IBTC, Bank Deposit, and ATM, to mention just a few.
Banking is not at all confusing at Bet9ja thanks to the availability of a number of tutorials. Moreover, customer support is excellent and always willing to assist bettors who need help with making deposits and withdrawals.
Customer Support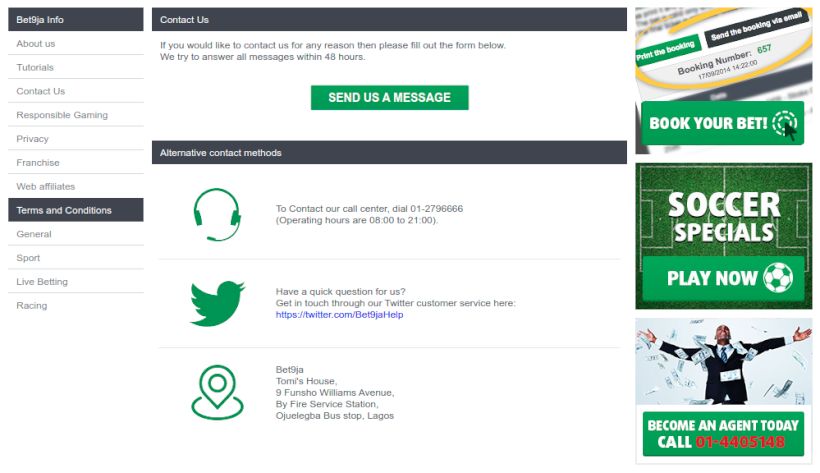 Bet9ja responds to emails and messages within 24 hours. The online contact form is available on the website and you can access it by clicking on the "Send Us a Message" tab on the contact page.
Alternatively, you can interact with the online betting site's staff members on Twitter or dial the number 01-279-6666 from 08:00 – 21:00.
Pros & Cons of Playing at Bet9ja Nigeria and Merrybet Nigeria
After reading the reviews of Bet9ja Nigeria and Merrybet Nigeria, you will naturally reach the conclusion that both are top betting products, designed exclusively for Nigerian bettors and operating on a Nigerian license. So, it is safe and secure to place real money bets at these online bookies. You can rest assured that they will never cheat you—you will receive your winnings on time. However, each online bookie has its own set of pros and cons.
Although Merrybet Nigeria is a high-quality betting product, its website design and color scheme are far from attractive. Also, it does not offer any native betting apps for iOS and Android devices. In addition, its live streaming services are not up to the mark.
On the brighter side, Merrybet offers excellent customer support, which includes live chat; a lighter and data friendly version of its mobile betting site; cashback on bets that you lose; and bankroll boosting promotions and offers.
Bet9ja Nigeria offers almost everything that Merrybet Nigeria does, with a few exceptions. You will find a wide range of sports betting markets, dedicated online casino and online betting apps for Android devices, online casino games, virtual betting games, a wide range of deposit options, and a 100% welcome bonus of up to N100,000.
On the downside, customer support is not available 24/7 at Bet9ja. You will not find a live chat option at the online bookie. Also, you cannot directly send an email to its customer support. If you are an avid live bettor, you may be disappointed with the absence of live streaming facilities at Bet9ja.
Bet9ja Nigeria or Merrybet Nigeria – Which One Should You Choose?
Doing a comparative analysis of Bet9ja Nigeria and Merrybet Nigeria will put you in a better position to choose one of the two. Both are excellent Nigerian online bookies, capable of the delivering the ultimate online betting experience in a safe and secure environment.
However, there are slight differences between the two products that may make a huge difference to you.
Games to Bet On– Both Merrybet and Bet9ja offer a wide range of sports markets, including football, cricket, rugby, and so on. They also offer live betting options. However, live streaming is available only at Merrybet Nigeria, not at Bet9ja Nigeria although many bettors are not happy about the quality of the live streaming service at the former.
More than Sports Betting– Both Merrybet Nigeria and Bet9ja Nigeria offer more than just sports betting. In addition to live betting and pre-match betting options, the two online bookies offer virtual betting and online casino games.
Football Jackpots– Football jackpots are available at both Merrybet Nigeria and Bet9ja Nigeria. But the football jackpot at Merrybet Nigeria is much larger than that of Bet9ja Nigeria. Both online bookies give away consolation prizes to players who fail to predict the outcomes of all the six games correctly.
Banking– Banking options are excellent at both Merrybet Nigeria and Bet9ja Nigeria. However, you will find some excellent banking tutorials at the latter. In other words, Bet9ja Nigeria not only offers a wide range of safe and secure banking methods, but also teaches you how to use them.
Customer Support– Customer support is definitely superior at Merrybet Nigeria. It is available round the clock via email, social networking sites, phone, and live chat. On the other hand, Bet9ja does not offer any live chat facilities. Its phone line is available only during limited hours and you cannot directly contact Bet9ja through email.
Promotions and Bonuses– Both offer excellent promotions and bonuses, but you will find a new player bonus only at Bet9ja and 5% cashback on losing bets only at Merrybet.
Mobile Apps– Merrybet Nigeria does not offer any dedicated mobile betting apps for iOS and Android. Bet9ja, on the other hand, offers a native betting app for Android devices.
Both Bet9ja and Merrybet Nigeria offer lighter and data friendly versions of their mobile betting products. So you can enjoy the best betting experience at both online bookies even if you own an old mobile device.
Now that you have read through, you will know the small but interesting differences between these two online Nigerian facing sportsbooks. You can choose the one that will suit your personal betting preferences the best. Whichever sportsbook you choose, you will not go wrong as they offer bettors a safe and secure online betting experience.