Bet9ja is an online betting brand belonging to KC Gaming Networks Limited, a company that holds online betting licenses from the Lagos State Lotteries Board, the State of Osun, and all other states that permit online sports betting in Nigeria.
Developed for the African and European markets, Bet9ja has a lot of industry experience. Moreover, it implements the best industry standards while delivering the ultimate online and mobile betting services to Nigerian bettors.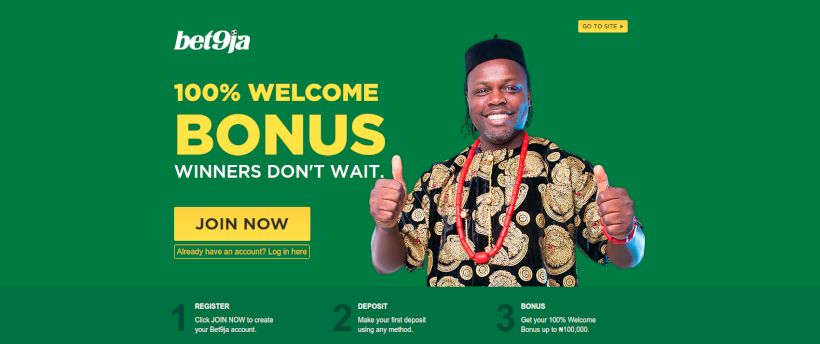 We could identify the following reasons for Nigerians to sign up at Bet9ja:
Covers Major Sporting Events:Bet9ja covers major European and international sporting events. It presents excellent odds and bet combinations such as halftime/fulltime and first goal scorer. It changes its odds up to the 90th minute for its live betting product. If you sign in on Saturday, you can choose from up to 10,000 different types of bets.
Safe and Secure:Bet9ja implements industry standard security measures to maintain a safe and secure betting environment. It uses Fortinet Firewall and Dell servers to protect its system and player data. Also, it has a Thawte Secure Socket Layer (SSL) encryption certificate.
Win Real Money:You win real money if your bets work in your favor. You can withdraw your winnings to your bank account at any time. Bet9ja Nigeria pays out winning bets to thousands of players on a daily basis.
How to Open a Bet9ja Account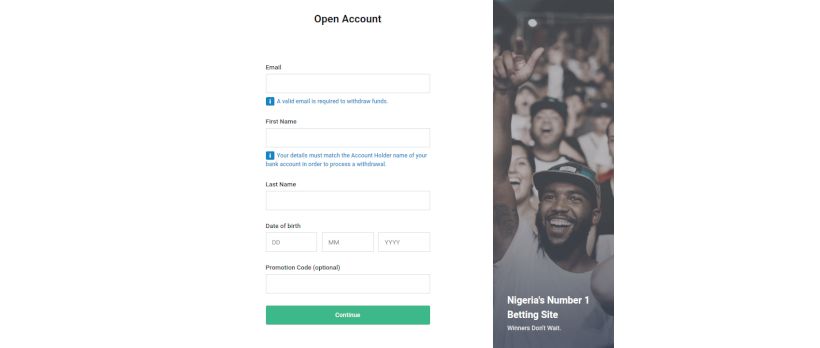 You can get started at Bet9ja Mobile in a matter of seconds, and the following guide shows you how:
Tap on the yellow Register link on the top left of the screen.
This opens the online registration form.
Enter your email address, name, date of birth, and promotional code if you have one.
Make sure that your name matches the name of the account holder of your bank account. In case the names don't match, the online casino will not process your withdrawal.
Create your login details on the next page.
Choose your state of residence.
Enter your mobile number.
Tap on the large "Create My Account" tab at the bottom of the online registration form.
By doing so, you automatically accept the online betting site's terms & conditions, confirm that you are above the age of 18, and declare that you are aware of the online betting site's responsible gaming policy.
You may have to confirm your email address and/or mobile number before the online betting site allows you to login and start betting on your favorite sports.
How to Bet using Bet9ja Mobile Apps

Bet9ja has been designed for online betting on web as well as mobile devices. If you own an Android smartphone or tablet, you can choose from two ways to play at Bet9ja:
Bet in Browser
You can bet in browser on your mobile device just as you would on the desktop version of Bet9ja.
To get started, you have to visit the mobile version of Bet9ja. You can do so by simply navigating to Bet9ja on your mobile device browser. Either create a new account or access an existing one with your login details. You can then start betting on your favorite sports markets just as you would on the desktop version.
Download Apps
Bet9ja offers native casino gaming apps and native sportsbook apps for Android devices. You have to first modify your Android device settings so that it accepts files from unknown sources. This step is essential as all Android devices are set by default to accept files only from Google Play Store. Once you have completed this essential step, you can tap on the green Download Casino or Download Sportsbook tabs to download the app and install it on your Android device.
Bet9ja Mobile has the following features:
Bet on thousands of live sports markets from all over the world on your smartphone or tablet.
Wager on online casino games such as table games and slots.
Make deposits & withdrawals and view your account history on the move.
You can not only claim a new player bonus of up to N100,000, but also multiple bonus boosts of up to 170%.
Bet9ja Old Mobile vs. New Mobile

Bet9ja has two different designs for mobile devices: Bet9ja old mobile and Bet9ja new mobile.
Bet9ja's oldest and most loyal players continue to use its old mobile version because they are still using their old mobile devices. Simultaneously, several Bet9ja users prefer using the old mobile version in spite of having the latest devices. This is definitely not because the old mobile version is better than the new one. It depends entirely on an individual player's tastes and preferences.
In fact, Bet9ja created a new mobile version just to keep up with the developments in the industry. The new mobile version serves the requirements of players who own the latest mobile devices, which are capable of handling heavier graphics and working faster than the older devices.
Although it created a new mobile version, Bet9ja decided to retain its old mobile version for the benefit of players who continue to use older mobile devices or simply prefer to use the older version.
The old mobile version is not only simple, but also lighter. In the absence of heavy graphics, it loads faster on older mobile devices and consumes less data. When you are on the old mobile version, you can get a quick overview of the various sports markets, but you have to make a few extra taps to access the odds for each category. The new mobile version, on the other hand, allows you to select your bets right on the front page and adds them to your betslip at the bottom of the page.
If you own an older mobile device or simply want to save data, you can use the old mobile version. If you want a graphic-rich interface with enhanced features and have a brand new device that can handle it, you must go for the new mobile version.
Betting Markets at Bet9ja Mobile – Games to Bet On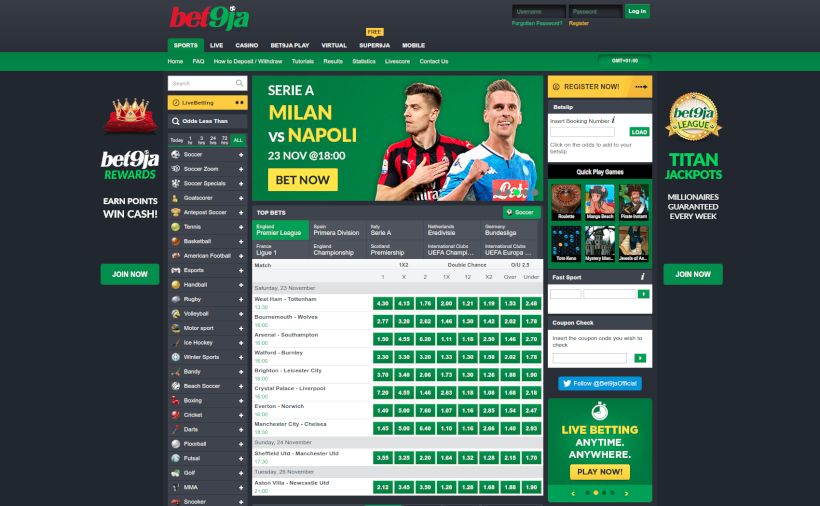 Bet9ja Nigeria is not just an online sportsbook, but also a live betting site and an online casino. You can access its betting services not only on desktops and laptops, but also on smartphones and tablets, including the older mobile devices.
Here is a list of games to bet on at Bet9ja Nigeria:
Online Sports Betting:Bet9ja offers excellent odds on sports markets such as soccer, basketball, tennis, handball, American football, rugby, ice hockey, volleyball, bandy, boxing, cricket, golf, floorball, darts, MMA, table tennis, waterpolo, and snooker. You can also place bets on political events.
Live Betting: Bet9ja offers plenty of live betting options on basketball, tennis, and ice hockey.
Online Casino Games:Bet9ja includes an online casino with games such as table games, live dealer games, arcade games, TV games, number games,  and slots. Some of the most popular games in the portfolio are Champions, Cards Hi-Lo, Classic Blackjack, The Big Match, African Roulette, Live Roulette, and Africa Wild.
Virtual Games:Place bets on virtual football, virtual horse racing, virtual tennis, and virtual dog racing.
How to Win NGN10,000,000 at Bet9ja Nigeria
To win NGN10,000,000 at Bet9ja, you have to play Super9ja. This is a simple game that challenges you to predict the scores of six pre-selected football games.

If you predict the results of all the six games correctly, you will win the jackpot of NGN10,000,000. If you are one of two players or a group of a players who made the correct predictions, the online betting site will distribute the jackpot equally among all the winners. If you make just a few correct predictions, you will win consolation prizes.
The Super9ja game is played every week at Bet9ja.
Banking at Bet9ja – How to Make Deposits and Withdrawals
Making deposits at Bet9ja is very easy. Initially, you may feel confused when you see its wide range of deposit options. In this case, you just have to visit the Account Tutorials section of the online betting site to get detailed guides to using different deposit methods.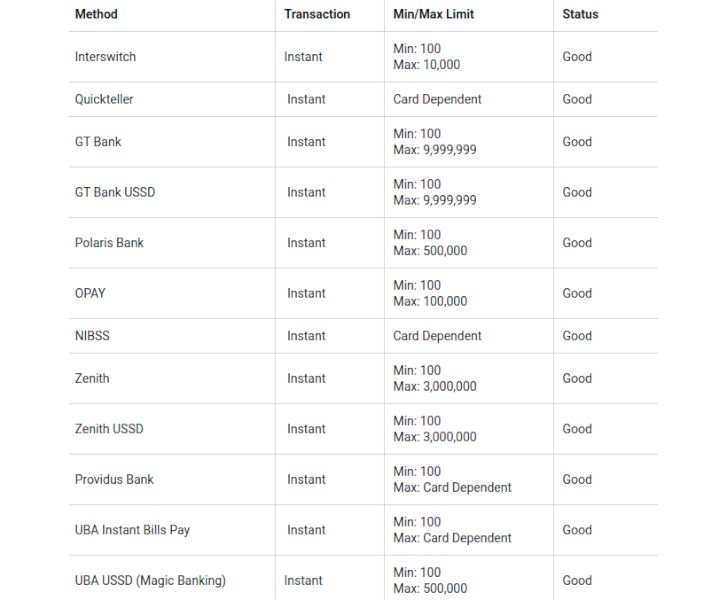 You can choose from the following deposit methods at Bet9ja:
Interswitch
GT Bank
GT Bank USSD
Quickteller
Polaris Bank
OPAY
NIBSS
Providus Bank
Zenith
Zenith USSD
UBA USSD (Magic Banking)
UBA Instant Bills Pay
Stanbic IBTC
Bank Deposit
ATM
While the minimum deposit limit is NGN100, the maximum depends on the preferred deposit method.
You can withdraw your winnings any time you please using the following steps:
Login to your online betting account and select Bank from the dropdown menu.
Select the Withdrawal option.
The name of the account holder should match the name you provided at the time of sign up.
If the name does not match, the online betting site will not process your payouts till you submit copies of identification documents.
Enter your correct bank details.
After verifying the information you just entered, click on "Confirm."
You can withdraw a minimum of NGN5000 at a time.
The online betting site will send you an email/text message confirming your payout request.
You can view your withdrawal status in the cashier whenever you wish.
Contact Bet9ja Mobile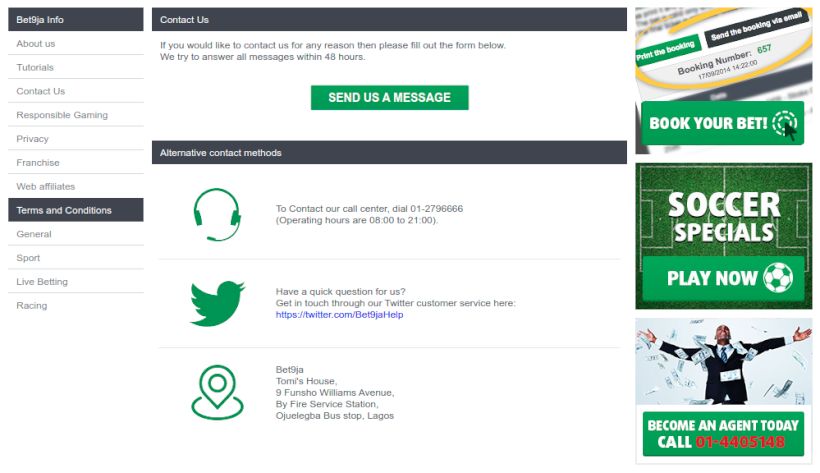 You can contact Bet9ja Mobile any time you wish and expect a courteous, personalized, and helpful response in just 48 hours.
Send a Message:The following are the simple steps to send a message to the online betting site:
Click on the green "Send Us a Message" button on the Contact Us page.
This opens a form on your screen.
Enter your name, email address, and phone number.
Choose your issue.
Upload a document if any.
Enter your subject line and message.
Click on the green "Send" button.
Phone Support: You can dial 01-279-6666 between the hours of 08:00 and 21:00 to connect with the online betting site's call center.
Twitter Support:You can connect with the online casino's Twitter customer support through htts://twitter.com/Bet9jaHelp.
Address: Write your issues to Bet9ja, Tomi's House, 9 Funsho Williams Avenue, By Fire Service Station, Ojuelegba Bus Stop, Lagos.
Bet9ja Mobile FAQs
Q1: How many betting accounts can I open on Bet9ja?
A: You can open only one Bet9ja account as the online betting site does not permit multiple accounts.
Q2: How old should I be to bet on Bet9ja?
A: You have to at least 18 years old to register at Bet9ja and use its services.
Q3: What should I do if I forget my login details?
A: You can retrieve a lost password by tapping on the "Forgotten Password" link near the login area on the Bet9ja homepage. If you cannot remember your username, you have to contact a customer support agent by sending an email to cs@mybet9ja.com.
Q4: What is the minimum/maximum I can deposit using a debit card?
A: You can deposit a minimum of NGN100 to a maximum of NGN10,000 using your debit card. You cannot use international cards at Bet9ja as it supports only Nigerian debit cards.
Q5: What is the minimum amount I can bet and how much can I win?
A: Bet9ja allows you to bet a minimum of NGN100 per bet; and you can win a maximum of NGN50,000,000.
Bet9ja Pros and Cons – Should You Sign Up?

Bet9ja is designed exclusively for Nigerian bettors although there is no 24/7 live support and the absence of live streaming dulls its live betting product considerably.
But the pros definitely outweigh the cons. Bet9ja is a reliable Nigerian online sports betting brand with plenty of deposit options, web-based and native mobile betting apps, casino games, and a new player bonus of 100% up to NGN100,000.
You don't even have to own a desktop computer or laptop to start betting as Bet9ja's old mobile version delivers a top-rated betting experience even on an old mobile device.